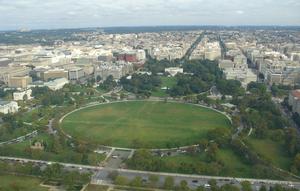 President's Park South Project
***Please note that the public comment period has been extended to 11:59pm on Thursday, September 12, 2013.***

President's Park South is part of the National Park System and includes Sherman Park, First Division Monument, the Ellipse and its side panels, as well as the associated roadways in the area. These places, along with other site features, are listed on the National Register of Historic Places. The NPS manages President's Park South pursuant to its statutory authorities, regulations and policies, the Comprehensive Design Plan for the White House and President's Park (2000) (Plan), the Design Guidelines for the White House and President's Park (1997), and in light of the area's National Register status. The section of E Street, NW. within this park area is also administered by NPS.

Following the events of September 11, 2001, United States Secret Service (USSS) temporarily closed the section of E Street, NW within President's Park South to unauthorized vehicular traffic. To secure this general area, USSS placed a line of jersey barriers along the southern edge of E Street and installed provisional guard booths, canopy tents, bike rack, concrete planters and standing canine vehicles at vehicle checkpoints at the east and west ends of E Street. A vehicle check point was also placed at the 16th Street and Constitution Avenue entrance to the Ellipse. Since that time there has been a continued, temporary closure of the roadways to unauthorized vehicular traffic.

The USSS will determine whether to change the status of the closure from temporary to permanent and to integrate durable, more aesthetic security elements in place of the temporary security elements identified above. The NPS will be deciding on landscape and infrastructure changes to the area that respond to the proposed street closures and re-design of security elements to preserve the iconic historic landscape that is the White House and its environs and an important destination for visitors. The EA will assess a range of alternatives establishing a permanent closure of E Street and associated roadways and the installation of redesigned security elements resulting in changes to the area, along with a no-action alternative for continuing the current closure using the existing, temporary security elements. The Plan was developed as an EIS and it will serve as a foundation for this EA, and the EA will also review the Plan's treatment of President's Park South.


Contact Information
Office of the National Park Service
Liaison to the White House
1100 Ohio Drive, SW.,
Washington, DC 20242
(202) 619–6344.