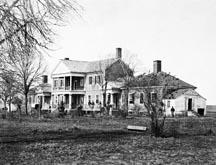 Reconstruct the Basement Stairway Entrance Roofs at Chatham


Chatham is a brick plantation house house built between 1768 and 1771. In 1975, FRSP took possession of Chatham and opened the site to the public the following year. Since then, Chatham has remained open as a visitor contact site and has also operated as the park administrative headquarters.

On both the northern and southern ends of the main house at Chatham there exist enclosed stairways that lead into the basement. It is not known when these exterior entrances were constructed, but photographic evidence shows that they were in place prior to the Civil War. The northern entrance appears to have been constructed of brick, with a wood frame pitched roof, while the southern entrance was constructed of wood with a sloped roof that attached to an enclosed entrance into the first floor of the house.

Photographic evidence further suggests that the roofs on both of these entrances had been removed as early as the 1920s. On the southern entrance, the wood enclosure was replaced by a brick enclosure, probably around the time that the roof was removed. For the past eighty years or so, both enclosed entrances have had flat roofs. This has led to major structural and maintenance problems. The flat roofs have no drainage systems and the rainwater either sits there until it evaporates or until enough water has accumulated to force it over the parapet sides of the roof. The result is that the flat roofs leak, causing considerable flooding in the basement as well as damage to the basement ceiling during periods of heavy rainfall.

FRSP proposes to solve to water issue by reconstructing the wood and shingle pitch roofs on both the northern and southern basement stairs entrances.


Contact Information
Eric J. Mink
Historian and Cultural Resources Manager

Fredericksburg and Spotsylvania NMP
120 Chatham Lane
Fredericksburg, VA 22405
Eric_Mink@nps.gov



The Fredericksburg & Spotsylvania National Military Park proposes to by reconstruct the wood and shingle pitch roofs on both the northern and southern basement stairs entrances of Chatham.