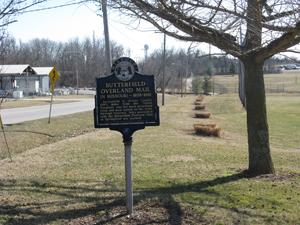 Butterfield Overland Trail Special Resource Study
Welcome to the Butterfield Overland Trail National Historic Trail Special Resource Study!
The proposed Butterfield Overland Trail National Historic Trail commemorates the routes pioneered by John Butterfield and the Butterfield Overland Stage Company as they traveled over the "ox-box route" between the eastern termini of St. Louis, Missouri and Memphis, Tennessee and the western terminus of San Francisco, California. Stages traveled over this route between 1858 and 1861.
In recognition of the perceived national importance of these routes, and in response to public advocacy for the inclusion of these routes in the National Trails System, Congress passed legislation that was signed by President Obama on March 30, 2009 (Sec. 7209 of P.L. 111-11).
This section of the public law calls for a "special resource study along the route known as the 'Ox-Bow Route' of the Butterfield Overland Trail (referred to in this section as the 'route') in the States of Missouri, Tennessee, Arkansas, Oklahoma, Texas, New Mexico, Arizona, and California to evaluate—(1) a range of alternatives for protecting and interpreting the resources of the route, including alternatives for potential addition of the Trail to the National Trails System; and (2) the methods and means for the protection and interpretation of the route by the National Park Service, other Federal, State, or local government entities, or private or nonprofit organizations." The National Trails Intermountain Region office of the National Park Service in Santa Fe, New Mexico, has conducted the special resource study.
The NPS held public meetings to gauge public support and concerns for national historic trail designation in Spring 2012. National Environmental Policy Act compliance has been achieved through a categorical exclusion since the study has no measurable environmental impacts. The study was completed in 2017 and transmitted to Congress in 2018 for their consideration. The study document and transmittal letters are available at
http://parkplanning.nps.gov/FinalButterfieldStudy2018
.
Thank you for your interest in this special resource study.
Aaron Mahr
Superintendent
National Trails Intermountain Region
Contact Information
Aaron Mahr
Superintendent
National Park Service
National Trails Intermountain Region
P.O. Box 728
Santa Fe, New Mexico 87504
505-988-6736
aaron_mahr@nps.gov