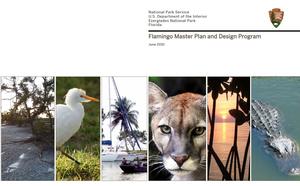 Flamingo Commercial Services Plan and Master Plan/Design Program


The Flamingo Master Plan was incorporated into the 2015 Final Everglades National Park General Management Plan/Environmental Impact Statement (GMP/EIS). The GMP/EIS Record of Decision (ROD), approved by Regional Director Stan Austin on October 23, 2015 serves as the National Park Service's decision document allowing for implementation of the elements of the Flamingo Master Plan described in the GMP/EIS and ROD.

Stay informed on the progress in redeveloping Flamingo by visiting the park's website (www.nps.gov/ever) periodically. As new information becomes available regarding the NPS, future concessioners, and other partners success in reestablishing Flamingo as the gateway to exploring Everglades National Park and providing overnight accommodations once again, the park will provide that information on the website and through news releases to the public.


Contact Information
Fred Herling, 305-242-7704



The Flamingo Master Plan, based on the Flamingo Commercial Services Plan approved in 2008, provides guidance to establish a "new Flamingo"―an eco-friendly destination with a greater variety of lodging options and visitor amenities. The master plan is pedestrian and bicycle friendly, encouraging visitors to enjoy and connect with their natural surroundings. It is designed to be hurricane, flood, and climate change resistant, and it showcases state-of-the-art sustainable technologies. The proposed architecture is inspired by that of old South Florida, yet complements the historic Flamingo Mission 66 structures and landscape. The Master Plan will guide planning, design, construction, restoration, and use of Flamingo for the next 50 years. It will also enhance visitor enjoyment and stewardship of the Everglades environment. About 50 acres of previously developed land will be restored to natural conditions.