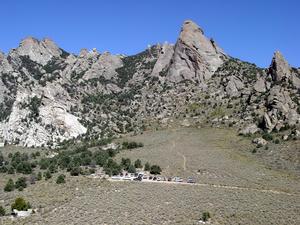 Circle Creek Overlook Parking Lot Relocation
April 19, 2010
Dear Friends,
City of Rocks National Reserve has conducted an environmental assessment to properly locate a parking lot at the Circle Creek Overlook. The purposes of the project are to remove the existing parking area from private property, shield it from view of the California National Historic Trail, and to properly locate a well-designed facility on public property as called for in the 1996 Comprehensive Management Plan.
In the proposed action, minor disturbance of vegetation is expected; however, vegetation from the old parking area will be restored. No other impacts to natural or cultural resources, scenic views or visitor experiences would occur. Federal law requires, and National Park Service policies encourage, public comment on developments that effect natural and cultural resources. Written comments will be accepted through May 19, 2010. To receive a free copy of the environmental assessment, or for more information about the proposed action, please call the Reserve headquarters at 208-824-5519. The document is also available at
http://www.nps.gov/ciro/parkmgmt/planning.htm
. Please address comments to Superintendent, City of Rocks National Reserve; P.O. Box 169; Almo, ID 83312.
Wallace Keck, Park Superintendent
Contact Information
Wallace Keck
Superintendent
City of Rocks National Reserve
Box 169
Almo, ID 83312
208-824-5519