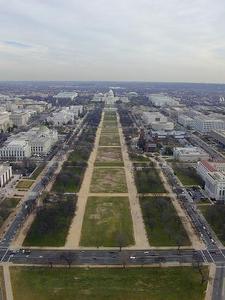 Reconstruct Turf and Soil on the National Mall


The design of the remaining five Mall lawn panels between 7th and 14th Streets is also underway. In addition to incorporating the the same improvements mentioned above, the design seeks to address the recommdations of the 2010 National Mall Plan by looking for stategic locations to widen walkways and install pedestrian plazas to help accommodate public events. Based upon the analysis of past public events, three schemes have been developed that re-configure the lawn panels in a manner that would allow the National Park Service to host the these events and their associated equipment on paved surfaces rather than on the grass in order to better protect the turf panels. To view further information on these schemes and the review process, please click on "Document List" and "Updated information on Phase 2 and 3 Reviews." The NPS will continue to provide project updates via this website.


Contact Information
Patrick Macdonald, Project Manager
Attn: Reconstruction of the Turf and Soil on the National Mall
National Park Service - DSC
12795 West Alameda Parkway
Lakewood, CO 80288-2838




The National Mall and Memorial Parks is currently restoring the Mall lawn. Construction is currently underway to rehabilitate three of the eight lawn panels on the Mall between 3rd Street and 7th Streets, NW. The work includes the regrading those panels to improve drainage, the installation of granite curbs, drains, and large underground cisterns to collect storm water, a new irrigation system with piping installed four feet below the surface, engineered soil to resist soil compaction, and durable varieties of turf. The new work has been designed to be more sustainable. The collection of stormwater for irrigation will reduce the use of potable water and help improve regional water quality. This contract work is projected to be completed by December 2012. Please click on "Document List," to the left, to view the Environmental Assessment and other related documents concerning this project.