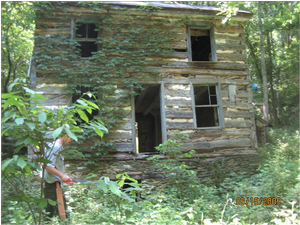 Mothball Knight House and Staub House
The National Park Service, Chesapeake and Ohio Canal NHP, will undertake measures to mothball the Knight House and Staub House, Washington County, MD. Both buildings are listed on the List of Classified Structures and the National Register of Historic Places, and represent the agrarian culture of the lands adjacent to the Chesapeake and Ohio Canal during its operational period. The buildings are located within mile 65 of the park.

Mothballing measures will include;

1) Vegetation removal

2) Securing windows and doors

3) Proper ventilation

4) Periodic housekeeping and inspections for rodents and other animals

5) Minor repairs, in kind of deteriorated features

6) Minor painting to seal exterior surfaces against rain/snow penetration.

All work will meet NPS Preservation Brief #31 Mothballing Historic Structures, based on the Secretary of Interior Standards for the Treatment of Historic Properties.

The park's Interdisciplinary Team reviewed the project for impacts to natural and cultural resources. The project does not pose any serious or long-term effects to the environmental, historical, cultural, archeological, or visual resources. It meets categorical exclusion #C.4 – Routine maintenance and repairs to cultural resources sites, structures, utilities, and grounds if the action falls under an approved Historic Structures Preservation Guide or Cyclic Maintenance Guide, or if the action would not adversely affect the cultural resource.

The project also meets the National Historic Preservation Act/Section 106 Programmatic Agreement, Streamlined Review Process #1 – Preservation Maintenance and Repair of Historic Properties.





Contact Information
For further information about the project, please contact Park Exhibits Specialist (Restoration), 1850 Dual Highway, Suite 100, Hagerstown, MD. 21740.