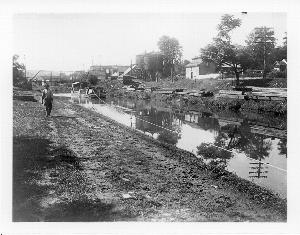 Enhancing Visitor Experience at Hancock, MD, Mile 122.12-124.59
The National Park Service, Chesapeake and Ohio Canal National Historical Park (C&O Canal NHP), is proposing to enhance the visitor experience at Hancock, Maryland. This would enable the park to better interpret the canal through interpretive programs and historic preservation of original canal structures.

The project area begins at park Mile 122.12 and ends at park Mile 124.59. This area includes Locks 51 and 52, the Bowles (Little) Farm, the Tonoloway Aqueduct, canal prism, canal boat basin, Little Tonoloway Picnic Area, as well as the Little Tonoloway Boat Ramp.

The purpose of the project is to expand visitor opportunities for learning about the C&O Canal and its operations in the late 1800's near Hancock, Washington County, Maryland. Physical improvements to the canal's historic structures and development of more extensive interpretive/educational opportunities would help the visitor more fully understand, appreciate, and enjoy the canal and its heritage. The project would address an area of the park that has had only basic preservation of historic structures and limited interpretive/educational opportunities.

The National Park Service completed an Environmental Assessment/Assessment of Effects (EA/AOE) to evaluate potential impacts of the proposed project to the natural, cultural, and human environment, in accordance with the National Environmental Policy Act (NEPA) and the National Historic Preservation Act (NHPA).

A Finding of No Significant Impact was signed on June 3, 2015. The project has been approved to proceed and the National Park Service looks forward to partnering with the Town of Hancock and other stakeholders to seek appropriate sources of funding.


Contact Information
For further information regarding this project, please contact the Office of the Superintendent, 1850 Dual Highway, Suite 100, Hagerstown, MD 21740.