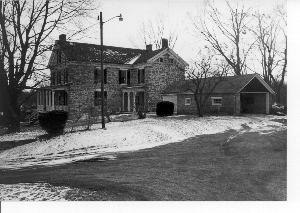 Historic Prather (Weber) House Rehabilitation
The National Park Service, Chesapeake and Ohio Canal National Historical Park, will undertake preservation work on the historic Weber House, located near Clear Spring, MD. The existing two story stone house is located within the Four Locks area, mile 108.73, of the park.

The purpose of the project is to address preservation needs of the structure, which has been unoccupied for several years. The need for the project is use the structure for park housing, which will also help maintain the structure and provide security. The Weber House was previously used as park housing.

The proposed work to the structure is to provide basic cleaning and preservation work, with minor interior upgrades so the structure can again be used as housing for seasonal park staff. The structure has four first floor rooms, including a full kitchen, plus two large storage pantries. The second floor has a full bathroom and four rooms. There is a full attic and a full cellar.


The proposed work will include the following -

1) painting and minor repairs to all existing windows
2) repair or replacement, in kind, of existing doors
3) interior walls - washing, minor repairs (in-kind), painting
4) repairs to existing electric fixtures and outlets
5) new bathroom plumbing
6) installation of handrails
7) general cleaning throughout
8) replacement of asbestos porch roof on front and side porches
9) replacement of missing/damaged rain gutters, matching existing.
10) cleaning of all gutters and downspouts
11) exterior porch painting
12) replacement of back porch steps and handrails
13) structural front porch repairs, in kind
14) replacement of front porch stairs to meet ADA standards

Appropriate abatement standards, in compliance with Maryland regulations, will be enforced.

Work will be undertaken to the existing structure only. No ground disturbance is anticipated.

The park's Interdisciplinary Team reviewed the project for impacts to natural and cultural resources. The project does not pose any serious or long-term effects to the environmental, historical, cultural, archeological, or visual resources. It meets categorical exclusion #C.4 – Routine maintenance and repairs to cultural resources sites, structures, utilities, and grounds if the action falls under an approved Historic Structures Preservation Guide or Cyclic Maintenance Guide, or if the action would not adversely affect the cultural resource.

The project also meets the National Historic Preservation Act/Section 106 Programmatic Agreement, Streamlined Review Process #1 – Preservation Maintenance and Repair of Historic Properties.


Contact Information
For further information regarding this project, please contact Chief of Preservation and Planning, 1850 Dual Highway, Suite 100, Hagerstown, MD 21740.