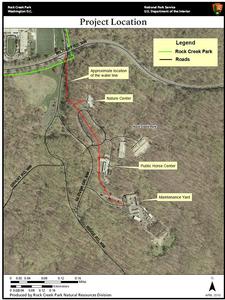 INSTALLATION OF FIRE SUPPRESSION SPRINKLER SYSTEMS AT THREE FACILITIES IN ROCK CREEK PARK


The uphill slope from Military Road to the three facilities would reduce water pressure in the new water main, which would compromise the efficacy of the sprinkler systems. To fix this condition, a diesel water pump would be installed at each location to increase water pressure to that location's fire suppression sprinkler system. The first pump would be installed at the Horse Center. In order to accommodate this pump, the former tack room at the Horse Center would be enlarged and extended outward from the current building, maintaining the existing roofline to preserve architectural continuity. Diesel water pump installations at the Maintenance Yard and Nature Center would be postponed pending a performance review of the pump at the Horse Center and the availability of additional funding.


Contact Information
Michael Buckler
Environmental Protection Specialist

Rock Creek Park
3545 Williamsburg Lane, NW
Washington, DC 20008

202-895-6076



NPS proposes to install fire suppression sprinkler systems at the Nature Center, the Public Horse Center, and the Maintenance Yard, fed by a new water main. The water main would run from Military Road, NW, to the Nature Center, the Public Horse Center, and the Maintenance Yard. Its installation would roughly parallel an existing (but limited) water main that already serves these facilities. In order to minimize the ecological impact (e.g., felled trees), approximately 2430 linear feet of water main piping would be installed using a jack-and-bore approach with directional, underground drilling. Boring pits would be located in previously disturbed areas, if possible.