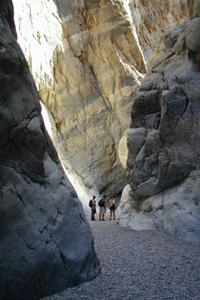 Wilderness and Backcountry Stewardship Plan


The National Park Service originally initiated the planning process in March 2009 for a Wilderness Stewardship Plan that did not include non-wilderness backcountry. The scoping period was open from March through June of 2009, and we received many insightful comments from members of the public and organizations. The comments received highlighted the geographic and experiential relationship between the extensive network of backcountry road corridors and the adjacent wilderness lands. Park Superintendent Sarah Craighead listened to the concerns raised and decided to expand the scope of the current planning effort to include the park's 3.1 million acres of designated wilderness as well as 225,000 acres of adjacent backcountry lands and 800 miles of backcountry dirt road corridors.

As part of the planning effort, the National Park Service will be completing an environmental analysis consistent with the National Environmental Policy Act.


Contact Information
For more information, contact park Wilderness Coordinator Charlie Callagan at 760-786-3282.



The National Park Service is initiating a combined Wilderness and Backcountry Stewardship Plan for Death Valley National Park. The purpose of this Wilderness and Backcountry Stewardship Plan is to guide the National Park Service and to make decisions regarding the future use and protection of the park's vast wilderness and backcountry lands. This planning process addresses all Congressionally designated wilderness lands within Death Valley National Park. It also includes non-wilderness backcountry concerns, such as: backcountry road corridors and campsites, backcountry cabins near roads, and non-wilderness backcountry lands. It does not include the Furnace Creek, Scotty's Castle, Stovepipe Wells, and Panamint Springs developed areas or developed campgrounds, paved roads, private inholdings or other non-NPS lands. It also will not include the Saline Valley Warm Springs and the non-wilderness lands surrounding them, as this area will be addressed in a site-specific plan as per direction of the Park's approved General Management Plan.