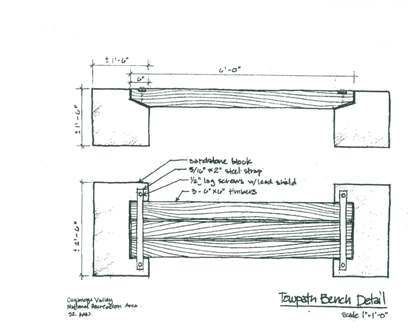 Standard Operating Procedure for Bench Placement - Parkwide
The National Park Service, Chesapeake and Ohio Canal National Historical Park, has established criteria for bench placement throughout the park. This has developed as a result of various public requests for benches along the park's towpath. The benches will provide visitor areas for short breaks while walking the towpath.

The park's Interdisciplinary Team (IDT) has developed criteria for the style and placement of benches to avoid impacts to the park's cultural and natural resources.

Donations for benches will be accepted, but will be consistent with National Park Service management policies regarding donations/memorials.

The park's Resources Division will coordinate all bench placement proposals, in coordination with the park's Maintenance Division.

The park's Interdisciplinary Team reviewed the project for impacts to natural and cultural resources. The project does not pose any serious or long-term effects to the environmental, historical, cultural, archeological, or visual resources. It meets categorical exclusion #D.1 –Minor changes in amount or type of visitor use for the purpose of ensuring visitor safety or resource protection in accordance with existing regulations.

Upon review under the National Historic Preservation Act/Section 106 Programmatic Agreement, no historic properties will be affected.




Contact Information
For further information about this project, please contact Chief of Resources, at 1850 Dual Highway, Suite 100, Hagerstown, MD 21740.