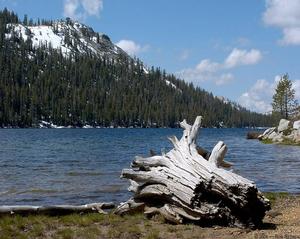 Tenaya Lake Area Plan
Public scoping was conducted from September 4 to October 3, 2008, during which, comments with issues, ideas and suggestions for the Tenaya Lake Area Plan were submitted. The EA was available for review and comment, beginning October 12, 2010 and ending November 17, 2010. The assessment addressed public review and implementation requirements of Section 106 of the National Historic Preservation Act. All scoping and EA comments were reviewed by park staff, and all relative and substantive comments were analyzed and considered throughout the planning process. The document is still available on the Planning, Environment, and Public Comment (PEPC) webpage for review.
A Tenaya Lake Area Plan Finding of No Significant Impact(FONSI) has been released. This document records the decision of the National Park Service to restore and protect resources while providing opportunities for appropriate high-country visitor experiences at Tenaya Lake, as described under the Selected Alternative in the EA. The park will begin the first phase of implementation of actions identified in the FONSI. The document is available electronically through the National Park Service's Planning, Environment, and Public Comment system (PEPC) at
http://parkplanning.nps.gov/yose
Tenaya is the largest lake in Yosemite's front-country, and because of its remarkable scenic qualities and its proximity to Tioga Road, it is one of the most popular destinations for summer visitors in Yosemite. Problems associated with visitor use, visitor safety, and resource impacts have been occurring for decades. The Tenaya Lake Area Plan Environmental Assessment (EA) was initiated in 2008, and provides for a formal, public analysis of these long-standing issues and presents a plan to remedy these issues.