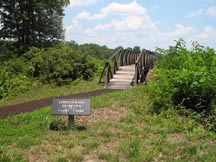 Creation of New Parking Pull-off and Wayside Exhibit at Saunders Field


The park proposes to install a new paved parking pull-off approximately two hundred yards farther down Hill-Ewell Drive from the current location. A new 5 foot wide rubberized mulch trail will run for 140 feet, from the new parking pull-off and across the edge of the field to just behind the Confederate earthworks, where a panoramic view of the field is obtained. At this location, two interpretive wayside exhibit signs will be installed.

At the old pull-off, the wooden foot bridge will be removed, as will the rubberized mulch trail that leads to it. This will remove a visual intrusion from the earthworks and the field. The paved parking pull-off will remain, to serve the monument, compass pedestal and state historic marker.

Under the guidelines of Section 106 of the National Historic Preservation Act, FRSP is soliticing public comments on this project. Written comments, either through this website or via postal letter, will be accepted only during the 30 day public review period.


Contact Information
Eric J. Mink
Historian and Cultural Resources Manager

Fredericksburg & Spotsylvania NMP
120 Chatham Lane
Fredericksburg, VA 22405
Eric_Mink@nps.gov



Saunders Field is the first stop on the designated tour route for the Wilderness Battlefield. The field is bisected by State Route 20, a busy two-lane road. Interpretively, the stop is served by a small parking lot and exhibit shelter on the north side of the field. On the south side of the road, a small paved vehicle pull-off serves a brief stop at the remnants of Confederate trenches and earthworks. A rubberized mulch trail leads from the monuments and markers to the earthworks, where a wood foot-bridge carries visitors over the trenches and out into the field. The foot-bridge, which was built about twenty years ago, is fairly large and somewhat of a visual intrusion on the landscape. Additionally, it is not handicap accessible. The park is looking to develop another stop in this area that will be accessible and will allow for the removal of the foot-bridge.