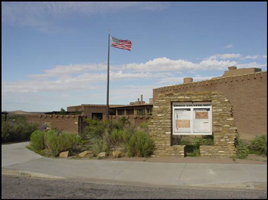 Rehabilitate Chaco Visitor Center


The specific purposes of the visitor center rehabilitation and renovation proposal are: 1) to protect public and employee health, safety, and welfare; 2) to improve the existing visitor center's operational efficiency and environmental sustainability; 3) to accomplish needed facility improvements in an efficient manner, and at an appropriate value; and 4) to afford the park's many and diverse visitors suitable opportunities to learn about, experience, and enjoy the park's significant resources.

If you wish to comment on the environmental assessment, you may mail comments to the name and address below, or post comments on this web site. This environmental assessment will be on public review for 30 days, ending on March 22, 2009. Before including your address, phone number, e-mail address, or other personal identifying information in your comment, you should be aware that your entire comment—including your personal identifying information—may be made publicly available at any time. While you may ask us in your comment to withhold your personal identifying information from public review, we cannot guarantee that we will be able to do so.



Contact Information
Barbara J. West
Superintendent
Chaco Culture National Historical Park
P.O. Box 220
Nageezi, New Mexico 87037
(505)786-7014 ext. 230
barbara_west@nps.gov



The National Park Service is proposing to completely rehabilitate and renovate the park's only visitor center/headquarters building. The existing visitor center was constructed in 1957 and was last remodeled in 1978. The purpose of this environmental assessment is to examine the environmental impacts associated with the proposal. The rehabilitated structure would essentially be a replacement in kind of the existing visitor center, retaining its building footprint and approximate square footage, but incorporating a number of needed structural and functional improvements.