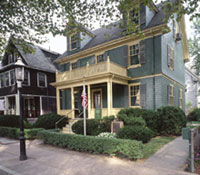 John F. Kennedy National Historic Site General Management Plan
Contact Information
Jim O'Connell, Planner
National Park Service
15 State Street
Boston, MA 02109
617-223-5222
Jim_O'Connell@nps.gov



The John Fitzgerald Kennedy National Historic Site, 83 Beals Street, Brookline, MA, has embarked on a long-term strategic planning process called the general management plan (GMP). Our public is a key partner in this process. Together we will craft a vision for the site and a plan for its future that we will submit for official adoption by the Director of the NPS. The plan will guide the site for the next fifteen - twenty years. Your first opportunities for input into the planning process are coming up. Please join us at an OPEN HOUSE on May 3, 2009 and at a PUBLIC MEETING to discuss the plan on May 6, 2009. It is anticipated that a draft plan will be available for public comment in 2010. The public is invited to provide input by sending material to the project contact.