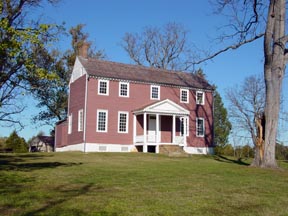 Development of Programmatic Agreement for Ellwood


Built ca. 1799, Ellwood is a historic plantation house on the Wilderness Battlefield in Spotsylvania County, Virginia. During the 1864 Civil War Battle of the Wilderness, the home was used as a headquarters for a number of Union generals, as well as served as a hospital for many of those who fell in that battle. In 1971, the NPS purchased Ellwood and granted its final owner a life tenure estate. When that individual died in 1977, the NPS took possession of the house and incorporated it into the Wilderness Battlefield unit of the Fredericksburg and Spotsylvania National Military Park (FRSP). The structure was stabilized and moth-balled, and for twenty years has existed as essentially an outdoor exhibit.

In accordance with 36 CFR Part 800.4, the NPS proposes to phase implementation of preserving, restoring and rehabilitating Ellwood by implementing these actions over a period of five years, depending upon funding and other factors. We have determined that these undertakings may have an effect upon properties included in or eligible for inclusion in the National Register of Historic Places.

Because we will not be able to determine the nature of the project's effects prior to approval of the undertaking, we have initiated consultation with the State Historic Preservation Office in the development of a programmatic agreement to set forth the process we will follow. In accordance with 36 CFR Part 800.14, we are inviting interested parties and organizations to participate in the development of this programmatic agreement.


Contact Information
Eric J. Mink
Historian and Cultural Resources Manager

Fredericksburg & Spotsylvania NMP
120 Chatham Lane
Fredericksburg, VA 22405
540-371-6416



The National Park Service (NPS) is developing plans to preserve, restore and rehabilitate Ellwood on the Wilderness Battlefield in Spotsylvania County, Virginia. The project would provide for improved interpretive opportunities and help to preserve a key park resource. Furthermore, this project will support the park's goal, as outlined in its most recent General Management Plan (1986), which states that "Ellwood will be restored…"