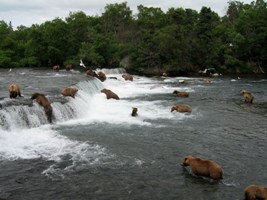 Brooks River Area Communications Upgrade and Bear Viewing Web Camera Installation
Contact Information
Helen Lons
Katmai National Park and Preserve
Environmental Planning and Compliance
P.O. Box 7
King Salmon, AK 99613
Helen_Lons@nps.gov





The National Park Service (NPS) is proposing to upgrade the existing Brooks Camp communications system and install a real-time web camera at the Brooks Falls viewing platform within Katmai National Park and Preserve. This project would provide a reliable backbone communications infrastructure to the Brooks Camp facility for the benefit of staff and visitors. This project would also provide a remote link to an NPS partnership that is willing to fund high definition color video transmission of bears feeding at the Brooks Falls area. The partnership consists of the NPS, Pratt Museum, RealNetworks and National Geographic Society.