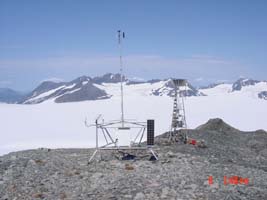 Climate Monitoring Program


Specifically, new permanent RAWS would be established at a maximum of 3 locations in KEFJ, 6 locations in KATM, and 4 locations in LACL. These unmanned stations, consisting of a battery-powered weather instrumentation unit and separate snowfall measuring unit, would become part of the SWAN climate monitoring system. Each RAWS would collect basic climatological data including air temperature, precipitation, relative humidity, wind speed and direction, solar radiation, and snow depth.


Contact Information
Bruce Giffen
National Park Service
240 West 5th Avenue
Anchorage, Alaska 99501
Phone: 907 644-3572



The National Park Service (NPS) is considering expansion of the remote automated weather station (RAWS) network at Kenai Fjords National Park (KEFJ), Katmai National Park and Preserve (KATM), and Lake Clark National Park and Preserve. One objective of the Southwest Alaska Network (SWAN) Vital Signs Monitoring Program is to record and monitor weather conditions at representative locations in order to identify long and short-term trends, provide reliable climate data to other researchers, and to participate in larger scale climate monitoring and modeling efforts. In an attempt to better understand climate variation as well as possible long-term changes in ecosystems of SWAN, new long-term climate monitoring stations are proposed for installation throughout the three parks in 2008.