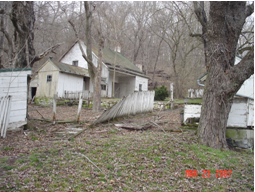 Stabilize Kretzer-Knode House and Outbuildings
The National Park Service will be undertaking preservation maintenance on several historic structures located at Lock 38 of the Chesapeake and Ohio Canal National Historical Park. The work area is located at mile 72.8 of the park. The preservation work will follow treatment recommendations as outlined in the Secretary of Interior's Standards for the Treatment of Historic Properties. The work will be undertaken by the National Park Service Historic Preservation Training Center.

This project will treat the following structures at the Kretzer-Knode house site: Main House, Outhouse, Tool Shed, Chicken House (AKA little shed), Hog Shed, North Barn and South Barn.

The scope of this project includes; securing of building entries, establishing ventilation for the masonry dwelling, painting roofs, and capping chimneys.

Removing encroaching vegetation is covered under PEPC # 18543.

The park's Interdisciplinary Team reviewed the project for impacts to natural and cultural resources. The project does not pose any serious or long-term effects to the environmental, historical, cultural, archeological, or visual resources. It meets categorical exclusion #C.4 – Routine maintenance and repairs to cultural resources sites, structures, utilities, and grounds if the action falls under an approved Historic Structures Preservation Guide or Cyclic Maintenance Guide, or if the action would not adversely affect the cultural resource.

The project also meets the National Historic Preservation Act/Section 106 Programmatic Agreement, Exclusions #IV.B 1 – preservation maintenance (housekeeping, routine and cyclic maintenance, and stabilization) as defined in DO-28, and; #IV.B 9 – Rehabilitation work limited to actions for retaining and preserving, protecting and maintaining, and repairing and replacing in kind materials and features, consistent with the Secretary of Interior's Standards for Rehabilitation and the accompanying guidelines.





Contact Information
For further information about this project, please contact Exhibits Specialist, at 1850 Dual Highway, Suite 100, Hagerstown, MD 21740.