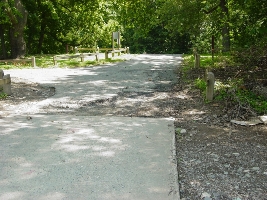 Parking Lot Repairs, Dargan Bend Boatramp
Staff of the Chesapeake and Ohio Canal National Historical Park will undertake repairs to the boatramp parking lot at Dargan Bend, Washington County, MD. These repairs will be completed by summer 2007.

The work will include pavement patching and replacement of a deteriorated concrete post/wooden railing system with the park's standard timber guardrail (non-crash type). The guardrail serves to prevent unauthorized vehicles from entering the towpath and Potomac River shoreline. The existing guardrail is a non-crash type.

The repairs to the parking lot and the replacement of the guardrails are replacement in kind. All pavement repairs will be within the existing footprint of the parking lot.

The park's Interdisciplinary Team reviewed the project for impacts to natural and cultural resources. The project does not pose any serious or long-term effects to the environmental, historical, cultural, archeological, or visual resources. It meets categorical exclusion #C.9 – Repair, resurfacing, striping, installation of traffic control devices, repair/replacement of guardrails, culverts, signs and other minor existing features on existing roads when no potential for environmental impact exists.





Contact Information
For further information about this project, please contact Park Engineer, at 1850 Dual Highway, Suite 100, Hagerstown, MD 21740.