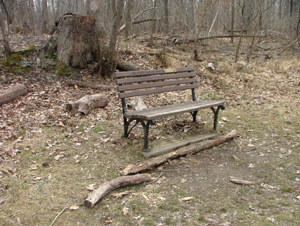 Replacement Park Bench- Marsden Tract Area
The Chesapeake and Ohio Canal National Historical Park, through a donation, will replace the existing park bench located on the towpath near Marsden Tract. The existing bench has been vandalized and is in poor condition. It is proposed that the existing bench be replaced with the exact same style of bench in the same location.

This project has been reviewed for impacts to natural and cultural resources by the park's Interdisciplinary Team. The project does not pose any serious or long-term effects to environmental, historical, cultural, archeological, or visual resources. It meets Categorical Exclusion #C.8 - Replacement in-kind of minor structures and facilities with little or no change in location, capacity, or appearance - for example, comfort stations, pit toilets, fences, kiosks, signs, and campfire circles.

Contact Information
For further information about this project, please contact John Noel, Partnership Coordinator, at 1850 Dual Highway, Suite 100, Hagerstown, MD 21740.