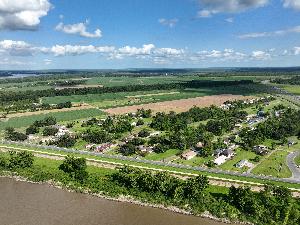 Great River Road Historic Context Study


The NPS is responsible for helping to preserve and protect NHLs and works with preservation officials, private property owners, and other partners interested in nominating properties for NHL designation. The NPS has commissioned HHM & Associates to conduct the study, documenting this portion of Great River Road in narrative and graphic formats and placing it into a regional and national context. The effort involves research, a field survey, photographic documentation, Geographic Information Systems analysis and public engagement. The study will enable the NPS, stewards, policy makers, civic planners and the public to better understand the eleven miles and take appropriate action where necessary.

Photo: Aerial view of agricultural landscape along the West bank of the Mississippi River in west St. John the Baptist Parish, Louisiana, with the community of Wallace in the foreground and Whitney and Evergreen Plantations in the background. Courtesy of Brian M. Davis, Executive Director, Louisiana Trust for Historic Preservation.


Contact Information
NPS Southeast Regional Office Project Contact - (404) 276-5092



The National Park Service (NPS) recently launched a one-year study of an eleven-mile stretch of the Great River Road — along the west bank of the Mississippi River in west St. John the Baptist Parish, Louisiana — for possible consideration as a National Historic Landmark (NHL) District, following a letter of inquiry received in 2022. The final NPS report will evaluate the area's historic context, suitability and value or quality in illustrating and interpreting the heritage of the United States. We expect the study to run through summer 2024.