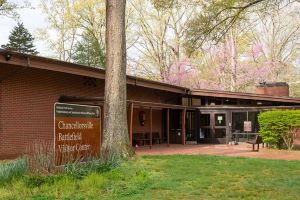 Replace Damaged Bench Slats with Composite Material - Chancellorsville Visitor Center


The Chancellorsville Visitor Center (a contributing building to the park's National Register nomination) is a Mission 66 structure which opened in May 1963 during the centennial anniversary of the battle. Six exterior benches are located outside of the main entrance - three underneath the porch roof overhang on the building's north elevation, two situated in an open brick plaza, and one along the structure's west elevation. The benches are used by park visitors while attending interpretive ranger programs as well as for comfort and enjoyment.

Carpenter bee and associated woodpecker damage has been an ongoing issue with these benches for several years - particularly for the three benches located beneath the porch overhang. To mitigate the issue, the maintenance staff has painted all slats and used with different types of wood when replacing individually damaged slats. In addition, the park's Natural Resource Manager consulted with the regional Integrated Pest Management Coordinator and, at their recommendation, applied repellents and insecticidal dust to discourage/reduce the carpenter bee population on a temporary basis. As staff is sensitive to the role pollinators play in the environment, the park is seeking a long-term solution to this issue that does not involve insecticides.

The park proposes to replace the 2.5" x 2.5" wooden slats with recycled composite material (color brown). The sustainable recycled material is made from mostly post-consumer products and is resistant to rot and fading. The diameter and length of the recycled lumber would match the existing wooden slats. The new composite slats would utilize the same fastening method as the existing wooden slats, and the original metal bench frames/legs would be retained.


Contact Information
Henry P. Elliott
540-693-3200 x6030



The Fredericksburg and Spotsylvania NMP proposes to replace the existing wooden slats with recycled composite material on six (6) exterior benches outside of the Chancellorsville Visitor Center. Many of the slats have been damaged by wood boring carpenter bees and subsequently by woodpeckers, leaving the benches unsightly and structurally weakened.