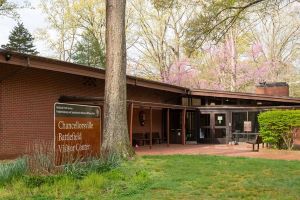 Install Cellular Antenna at Chancellorsville Visitor Center


The Chancellorsville Visitor Center (a contributing building to the park's National Register nomination) is a Mission 66 structure which opened in May 1963 during the centennial anniversary of the battle. The visitor center contains multiple offices for both National Park Service staff and cooperating association employees. The existing T1 internet connection and bandwidth is inadequate, however, for staff use and productivity.

The antenna would be installed on the Visitor Center chimney to capture cellular signal above the building, which would then be routed inside via cable to create multiple WiFi hotspots. Park IT staff evaluated several locations atop the structure to identify an unobstructed site with the strongest signal. Based on their findings, the park proposes to install the antenna horizontally on the southeast corner of the chimney using a mounting bracket and screws (the antenna measures 12" x 20" x 3"). The antenna cable will run through the open chimney flue to the building basement where it will be hardwired to the associated Cradlepoint routers.

The installation of the cellular antenna is viewed by park staff as a short-term solution to the internet issues at the Chancellorsville Visitor Center. The park's goal is to secure cable/fiber access to the building but is uncertain at this time when such service will be available.


Contact Information
Henry P. Elliott
540-693-3200 x6030



Fredericksburg & Spotsylvania NMP proposes to install a cellular antenna atop the Chancellorsville Visitor Center to improve internet access/connectivity and bandwidth to the building.