Project Links
A comment period for this project closes Mar 31, 2023:
Days, Hours, Min.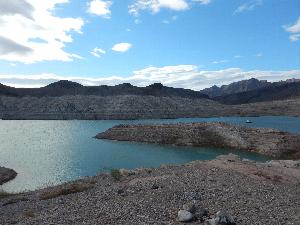 Relocate Echo Bay Launch Ramp for Visitor Recreation


The National Park Service is seeking public comment on potential cultural resources that may be impacted by the proposed work, in accordance with Section 106 of the National Historic Preservation Act. A map showing the project location and the 2018 GMP Low Water Plan can be found under the Project Links by selecting Document List.

The area has been surveyed for cultural resources by the Lake Mead NRA cultural resources staff. No cultural materials were encountered. The Echo Bay Mission 66 Historic District is west of the project area. There are no actions proposed that would impact the historic district. Formal consultation with Indigenous communities and the Nevada State Historic Preservation Officer are forthcoming.

Comments will be accepted through this PEPC portal from 8 a.m. on March 17, 2023, through 5 p.m. on March 31, 2023 (Pacific time).

To submit a comment, please follow the Project Link to "Open for Comment." Select the posted document and then click the "Comment Now" button to provide your comment.

Commenters should be aware that their entire comment - including personal identifying information - may be publicly available at any time. While commenters can ask that their personal identifying information be withheld from public review, the NPS cannot guarantee that this will be possible.

Thank you for your assistance!


Contact Information
Chris Nycz
Cultural Resource Manager
702-293-8859



In accordance with the 2018 General Management Plan Amendment/Low-Water Plan, Lake Mead National Recreation Area proposes construction of a primitive launch ramp with associated access road and parking lot. The access road, parking lot, and launch ramp will not be paved. An area adjacent to the access road has been identified for excess soil placement associated with this action. The purpose of this action is to allow primitive launch capability at this location through 1,000 feet water elevation.