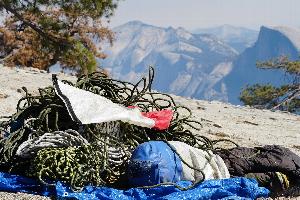 Yosemite Overnight Big Wall Climbing Wilderness Stewardship


Cumulative effects of overnight big wall climbing have led to severe impacts to Wilderness values. Issues include proliferation of litter, human waste, abandoned property, improperly stored food, illegal fire rings and wind breaks, and preventable accidents. In response, the park has increased education, outreach, and law enforcement efforts. Despite these efforts, the park fails to meet legal requirements for protection and enhancement of Wilderness character.

The purpose of this project is to accomplish the following:

- Protect and enhance the wilderness character of Yosemite's climbing areas while providing the public the opportunity to continue to climb big walls.
- Preserve the natural conditions for wildlife, vegetation, and water quality at the base of walls, on the walls, and on their summits. This requires reducing the amount of litter, abandoned property, fixed ropes, fire rings and other structures, and improperly disposed of human waste.
- Improve opportunities for primitive and unconfined recreation by educating climbers on best practices for Leave No Trace (LNT) principles and preventative search and rescue.
- Provide climbers with information to enhance opportunities for solitude in wilderness areas
- Further develop a collaborative relationship between the NPS and climbing community to promote shared objectives of stewardship and safety.

PLEASE CLICK THE "OPEN FOR COMMENT" LINK ON THE LEFT TO PROVIDE VALUABLE INPUT.


Contact Information
Yosemite Climbing Ranger, Jesse McGahey: 209-354-2025



Overnight big wall climbing is a valued opportunity to experience Yosemite's Wilderness. Overnight big wall climbing includes climbs of length and technical complexity that require typical parties to take more than one day to complete. It was developed in Yosemite in the 1950's and has risen in popularity through the decades, expanding across areas within Yosemite and beyond. The 1984 California Wilderness Act designated Yosemite's big walls as Wilderness, requiring protection of the physical and experiential values inherent in Wilderness stewardship.