Project Links
A comment period for this project closes Oct 18, 2023:
Days, Hours, Min.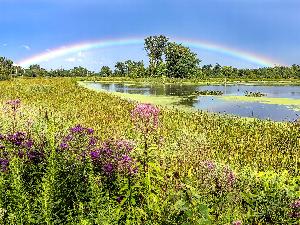 Construction of Marquette Greenway Trail - Calumet Segment


The National Park Service (NPS) is requesting input on the Environmental Assessment (EA) for the Marquette Greenway Trail - Calumet Reroute Segment.

Indiana Dunes National Park, in coordination with Porter County, Indiana, proposes to enter into an agreement to build an approximately 6.3-mile segment of paved trail which is compliant with the Architectural Barriers Act (ABA) and Americans with Disability Act (ADA). The agreement would grant permission for Porter County to construct the trail through portions of the National Park. It would reroute a portion of the current Calumet Trail, which is located in a flooded utility corridor, into the National Park providing a safe, more usable, and scenic experience. This trail would become part of the Marquette Greenway Trail, a 60-mile regional trail stretching from Chicago, IL, to New Buffalo, MI.

The EA has been prepared in compliance with the National Environmental Policy Act (NEPA) to provide a decision-making framework as follows: 1) Assess a reasonable range of alternatives to meet the purpose of the proposed action; 2) Evaluate potential issues and impacts to the natural and cultural resources of the park; and 3) Identify required mitigation measures designed to lessen the degree or extent of any potential adverse environmental impacts.

The EA was drafted by an NPS - Porter County planning team over the past two years while consulting with Government agencies, nonprofit organizations, stakeholders, residents, and other interested parties. To learn more about the EA, please join us at an information sharing session on Tuesday, September 26, from 6-8 pm at the Indiana Dunes Visitor Center located at 1215 North State Road 49, Porter, IN 46304.

The EA for Marquette Greenway Trail - Calumet Reroute Segment will be available for public review for 30 days from September 19, 2023, to October 18, 2023.

Beginning on September 19, comments may be submitted by selecting "Open for Comment" on the left menu bar, scroll down to the bottom of the page to open and Environmental Assessment for the Marquette Greenway Trail - Calumet Reroute Segment, then click on the green "Comment Now" button on the left menu bar to access the online commenting form.

Sincerely,

Christopher J. Pergiel
Acting Superintendent


Contact Information
For information about the park, and the planning process, please contact:

Acting Superintendent
Indiana Dunes National Park
1100 North Mineral Springs Road
Porter, IN 46301
(219) 395-1699



Welcome to Indiana Dunes National Park!