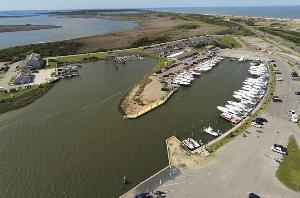 Install new No Wake Signs at Oregon Inlet Marina


According to the N.C. Wildlife Resources Commission, a No Wake Zone is an area within which vessels are required to travel at idling speed - slow speed that creates no appreciable wake. The Seashore is interested in establishing a No Wake Zone at Motts Creek primarily as a safety measure to reduce the likelihood of an accident or injury caused by boats under power or throwing a large wake in a congested area with multiple user groups. This entire area is very busy with charter boats, private motorized and non-motorized boats such as kayaks and paddleboards and anglers who are wading within this project area. There have been reported conflicts between these multiple users who are all using this inlet at the same time.

A public meeting is scheduled for 6-7 p.m. Thursday, Aug. 18 at the Dare County Administration Building, 954 Marshall C. Collins Dr., Room 168, Manteo, N.C. 27954.


Contact Information
Lynne Edwards
Bodie Island District Ranger
252-475-9510



Cape Hatteras National Seashore (Seashore) invites public input on a proposal to establish a Motts Creek No Wake Zone, which would encompass the U.S. Coast Guard's Station Oregon Inlet and the Seashore's marina, boat ramps and kayak launch near Oregon Inlet.