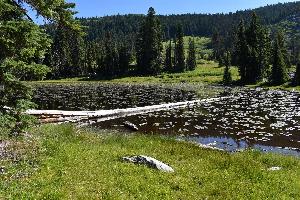 Oregon Caves Fire Management Plan and EA


To comply with National Environmental Policy Act (NEPA) and NPS policy, the proposed updated FMP will be evaluated through an Environmental Assessment (EA). The plan will identify issues and concerns and present a reasonable range of management alternatives for public review. The EA will also analyze the environmental consequences of each of the alternatives, and can be used to identify a preferred alternative, which will then become the final plan. At the end of the EA process, the NPS anticipates issuing a "Finding of No Significant Impact" which is the document that finalizes the decision on the FMP.

The initial three alternatives to be considered in the EA include:
• No action, fire management would include ongoing wildland fire suppression.
• Fire management that would include wildland fire suppression, manual fuels reduction, pile burning, and broadcast prescribe fire.
• Fire management and forest resiliency treatments that would include wildland fire suppression; manual and mechanical fuels reduction; pile and broadcast prescribe fire; mechanical fuels reduction (potentially involving masticators, processors, forwarders, feller bunchers, skidders, and other equipment).


Contact Information
Superintendent 541-592-2100 ext. 2221



The National Park Service (NPS) is seeking public comment on a project to update the Fire Management Plan (FMP) for the Oregon Caves National Monument & Preserve (ORCA). The updated FMP will conform with current NPS policy; identify and prioritize mechanical and prescribed fire treatments; and promote a fire management strategy based on natural ecological processes and conditions characteristic of park ecosystems.