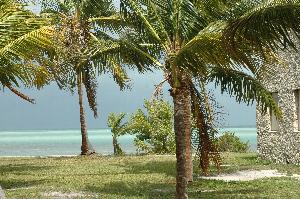 Proposed Camping Fee Increase for Boca Chita and Elliott Keys in Biscayne National Park
The proposed increase is commensurate with customer demand and use, and will allow the park to enhance visitor experience and offer a greater presence on the islands. This stronger presence will allow the park to better address common campground issues such as noise complaints, resource damage, and trash disposal. This increase will also cover administration fees associated with changing campsite payments from a cash-based honor system to Recreation.gov's Scan and Pay.
"This fee increase will enable us to provide the quality of service and facilities that our visitors expect at a national park. In addition, switching to Scan and Pay will reduce personnel costs and will create a streamlined, efficient process for managing campground use while allowing for an easy, user-friendly experience for our campers," said Biscayne National Park Superintendent Penelope Del Bene.
Boca Chita and Elliott Key offer unique national park camping experiences in that the campgrounds are only accessible by boat. Both locations feature beautiful waterfront views, a grassy camping area, docks, restrooms, picnic tables and grills. Recreation opportunities like these at Biscayne National Park contributed to boosting the local economy with visitors spending $46.2 million on hotels, gas, restaurants, and other services resulting in 606 jobs in the local communities in 2019.
If enacted, the proposed fee increases would take effect in January 2022 and would appear on www.recreation.gov as the published rates.
Park staff would very much like to receive public feedback about this proposed increase. Here a list of ways that individuals can provide feedback on this topic:
• Send a letter with your comments to:
Biscayne National Park
Superintendent
9700 SW 328th Street,
Homestead, FL 33033
• Post a comment on the National Park Service Planning, Environment, & Public Comment website-
https://parkplanning.nps.gov/BiscayneNPCamping
• Send an email to bisc_information@nps.gov.
Comments are accepted through 11:59 p.m. on October 7, 2021.
Contact Information
Biscayne National Park Superintendent
(305) 230-7275
Biscayne National Park is proposing an increase to the overnight camping fee in the park's Boca Chita and Elliott Key Campgrounds. The fee will increase from $25 a night to $35 a night for campers with a boat. This covers dock space for one boat, two tents, and up to six people. Campers not requiring a dock space (tent only) will have a fee increase from $15 a night to $25 a night. There has not been an increase since 2015 when it went from $20 to $25. Access and Senior Lifetime pass holders will still be eligible for the 50% discount.