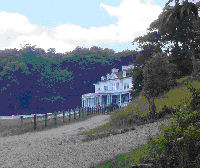 Moses Cone Developed Area Management Plan (DAMP)


The National Park Service has determined that the proposed project will not significantly affect the human environment within the project area; therefore, an environmental impact statement will not be prepared.

We thank you for your comments regarding the project. Public participation is a key element in the environmental review process at the Blue Ridge Parkway. Your participation helps to ensure that the National Park Service fully understands and considers your values and concerns.

The FONSI is available to download under the Documents List Section.




The National Park Service, Southeast Regional Director has approved the Finding of No Significant Impact (FONSI) for the Moses H. Cone Developed Area Management Plan (DAMP). The FONSI has determined that there will be no significant environmental impacts that would occur by implementing this plan. The plan will provide a long-term management strategy that will best protect and preserve the extraordinary resources at the site while providing for an enjoyable visitor experience.