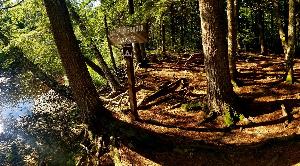 New Reservation System for Campsites


Campsites:
Big Seboeis
Big Spring Brook West
Esker
Haskell Deadwater
Lunksoos
Pond Pitch West
Sandbank Stream
Stair Falls West
Upper East Branch
Wassataquoik

Lean-tos:
Grand Pitch
Katahdin Brook
Lunksoos
Wassataquoik

Huts:
Haskell Hut (winter use only)

Currently all campsites and lean-tos are first-come, first-serve. Changes may be seasonal (e.g. on a reservation system during peak use) or year-round. The monument would use the existing National Park Service on-line reservation system located at www.recreation.gov.

Reservations for winter use of Haskell Hut are currently made by contacting Katahdin Woods and Waters National Monument by email or phone. Adding Haskell Hut to the reservation system will provide real-time availability and the ability to make reservations outside standard business hours Monday-Friday. No changes are proposed for the reservation process at Big Spring Brook Hut.

The purpose of the reservation convenience fee is to cover Katahdin Woods and Waters National Monument's cost of using the national reservation service contract-www.recreation.gov. Recreation.gov charges contractor line item number (CLIN) costs of $8 for online reservations and $9 for phone reservations.

Please provide your comments regarding the proposed fees online by July 14, 2021. Use the "Open for Comment" link on the left to access the document and comment page. Comments submitted by phone will not be accepted.

See Documents Open for Comment for more information.


Contact Information
Jeanne Roy
207-267-5553



Due to increased visitation, Katahdin Woods and Waters National Monument is proposing placing campsites, lean-tos and Haskell Hut into the National Park Service reservation system summer of 2021 to improve trip planning and visitor enjoyment through the increased certainty of a reserved site. The following sites would be added to the reservation system: