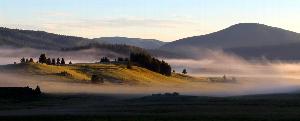 Valles Caldera National Preserve - Management Zoning


We encourage the public to learn more about the management zoning process by participating in a virtual public meeting. Each meeting will include an overview of the management zoning process and draft zoning approaches under consideration, and provide an opportunity to ask questions and provide feedback. Virtual meetings will take place at the following times:

Tuesday, April 20 (1:00pm - 3:00pm) MT
Thursday, April 22 (5:30pm - 7:30pm) MT

Meeting links can be accessed under the 'Meeting Notices' link.

Your feedback is important to us, and we encourage you to share your thoughts and ideas in this early stage of management zoning. The public comment period opens on April 9, 2021, at which time a digital newsletter with more information will be posted. The public comment period will close on May 5, 2021. Please click on the 'Open for Comment' link during that time to view the newsletter, and access the online comment portal. For those interested in more detailed information on desired conditions for the draft management zones, additional information is available under the 'Document Links' tab.

Thank you for your interest!



Valles Caldera National Preserve has initiated a management zoning process to develop a long-term, sustainable, and strategic direction for future planning and management efforts at the Preserve. The goal of this zoning process is to preserve and protect fundamental resources and values within the park, while enhancing sustainable visitor experiences and opportunities. Management zones focus on what resource conditions, visitor uses, and general levels of development could be at the park, rather than the details of how any experiences, outcomes or conditions could be achieved.