Project Links
A comment period for this project closes Feb 05, 2022:
Days, Hours, Min.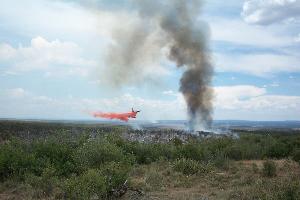 Mesa Verde and Yucca House Fire Management Plan


The FMP would guide fire program activities and accommodate changes in federal wildland fire policy, guidance, and practices based on ongoing improvements in the science of wildland fire management. The FMP would provide a flexible range of options and activities that could be used to respond to changes in environmental conditions and the specific needs of fire management within the parks. The NPS will analyze impacts of the FMP on resources such as, but not limited to, cultural resources, vegetation, soils, wildlife, water resources, wilderness, and visitor use and experience.

A newsletter that includes information about the preliminary concepts being considered and the environment at the parks that could be affected by this proposed project may be viewed or downloaded from the Document List or Open For Comment links on the lower left side of this page. At this time, we are initiating a 30-day comment period from January 6, 2022 to February 5, 2022.

We invite you to participate in the planning process by submitting ideas for inclusion in the FMP and identifying issues of concern. We hope you will join us in this important discussion regarding the future of your public lands by submitting comments. Thank you for your interest and participation in the development of the FMP.

Sincerely,

Kayci Cook Collins

Superintendent


Contact Information
Allan Loy 970-529-5067



The National Park Service (NPS) is proposing to develop and implement a Fire Management Plan (FMP) at Mesa Verde National Park (MVNP) and Yucca House National Monument (YHNM) ("the parks"). Fire management activities are currently conducted under a Wildfire Emergency Response Procedure (WERP), which only allows for full fire suppression and limited and localized fuel treatments to maintain defensible space in developed areas and around critical infrastructure. The WERP for the parks will expire in 2022, leaving few options for fire management without development and implementation of the FMP.