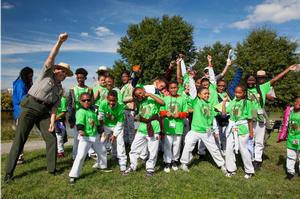 Develop Anacostia Park Management Plan/Environmental Assessment


Authorized in the 1920s as part of a river project to protect water quality and recreation opportunities, Anacostia Park, including Kenilworth Aquatic Gardens and marsh, is a multi-use park within a narrow flood plain. Hundreds of acres are available for nature watching, sports playing and picnicking, while the Anacostia Park Pavilion has space for roller skating and for holding special events. The historic Langston Golf Course offers an 18-hole course as well as a driving range and pro-shop. A public boat ramp provides access to the tidal Anacostia River for recreational boating.

Anacostia Park does not currently have a comprehensive plan to provide Park managers with guidance for management decision-making. In 2001, the NPS initiated a general management plan (GMP) for Anacostia Park but this plan was not completed. An internal draft GMP was produced in 2005 and will be the foundation of the Plan. The current planning process will revisit, adopt, and update, as needed, the contents of the draft GMP based on additional input from the NPS, other federal, state, and local agencies, and the public. The planning process will reinitiate scoping to provide more current information with which to guide the development of planning alternatives. The planning process will also include an opportunity for the public to provide input on the draft plan alternatives prior to the release of the Plan for public review later this year.

The public is encouraged to participate in the planning and development process. Documents available elsewhere on this site provide additional background information.

If you have any questions, please do not hesitate to contact us. If you would like to provide information for consideration in the planning process, please use the resources of this web site or attend a planning meeting in person. Thank you in advance for your assistance.




Contact Information
Superintendent
Anacostia Park Management Plan
1900 Anacostia Drive, SE
Washington, DC 20020
202-690-5127





The National Park Service (NPS) is preparing a Management Plan/Environmental Assessment for Anacostia Park. The Plan would provide broad guidance and long term strategies for management of the Park, to protect the Park's natural and cultural resources, provide for public understanding and use of the Park, and promote partnership opportunities that would support and complement NPS management of the Park. The Plan would provide a decision making framework for NPS staff in developing more detailed implementation plans and in determining whether future actions proposed by NPS or others are consistent with NPS goals for Anacostia Park.