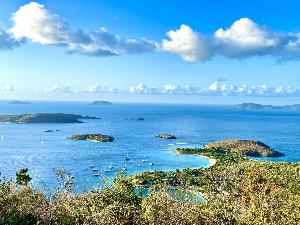 Caneel Bay Redevelopment
Since 1983, the resort under the RUE has been owned and/or managed by different companies. Since 1992, Caneel Bay Resort has been operated by Rosewood Hotels on behalf of the owners, CBI Acquisitions. The RUE is scheduled to expire on September 30, 2023.
With the expiration of the Rockefeller RUE in sight, the NPS is re-initiating a planning process, including public listening sessions, that will seek to engage the public to help shape future protection and use of Caneel Bay for generations to come. A virtual forum will kick off the planning process and will include Caneel Bay updates and feature an opportunity for the public to inform the NPS vision for Caneel Bay. We welcome broad participation in our long-term commitment to preserving and commemorating the area's natural and cultural heritage.
In the coming months, notices for public meetings and other information about planning for the future of Caneel Bay will be posted on the Planning, Environment, and Public Comment site ((
https://parkplanning.nps.gov/)
. Also, look for notices and updates on the park's web page (www.nps.gov/VIIS) and on Facebook (tps://www.facebook.com/virginislandsNPS).
Contact Information
Nigel Fields, 340-776-6201 x 238
Caneel Bay is located on a 150-acre peninsula on the northwest side of the island and was originally developed by Laurance Rockefeller beginning in 1956. Initially, Rockefeller donated over 5,000 acres of land to the National Park Service (NPS) and reserved the 150 acres, what has been Caneel Bay Resort, for the Jackson Hole Preserve, a Rockefeller family land trust. In 1983 Jackson Hole Preserve donated the 150 acres of land to the U.S. government for inclusion within the Virgin Islands National Park. The preserved land was transferred to the NPS with a 40-year retained use estate (RUE).