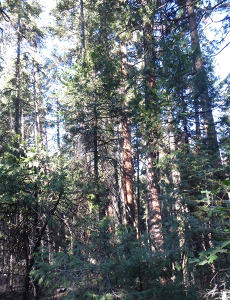 Emergency Fuels Reduction within SEKI Sequoia Groves


Between 2020 and 2021, 13% to 19% of the world's population of large giant sequoias were killed by three large wildfires (the Castle, Windy, and KNP Complex Fires), including several thousand trees in Sequoia and Kings Canyon National Parks. While giant sequoias require frequent low- to moderate-intensity fire for healthy growth and regeneration, these fires burned so intensely that they overwhelmed even these great survivors' natural defenses. Some areas were so affected that no mature living trees remained to reseed the ground. Most of these catastrophically burned areas had not experienced fire in recent years, and because of that, carried heavy fuel loads that caused fires to burn more intensely.

"The fires of 2020 and 2021 underscored the importance of deploying all tools at our disposal to protect sequoia trees," said Clay Jordan, superintendent of Sequoia and Kings Canyon National Parks. "Park managers are assessing the appropriate fuels reduction tools for each grove on a case-by-case basis."

Most of the work in fall 2022 includes manual thinning of excess vegetation. The trimmings from thinning will be burned on site in piles, or as part of a prescribed burn, or a combination of the two. As the project continues, park staff will provide more details for individual components of the project, including when smoke impacts are anticipated.

Although implementation has begun and will continue as weather and other conditions permit, the emergency action is inherently dangerous work and is dependent on site and weather conditions which could delay implementation. These conditions include: winter weather; timing considerations for the protection of sensitive species (e.g., fisher); the need for coordination with contractors and others for implementation and activities like on-site monitoring; the loss of workers to firefighting duties; air quality, fuels moisture levels, and other weather conditions at the time of pile and prescribed burning; and the millions of visitors coming to the Parks every year, particularly during the summer. Notably, the emergency action will continue until prescriptions are met, or when the National Park Service completes an updated Sequoia and Kings Canyon National Parks Fire and Fuels Management Plan and associated analysis in accordance with the National Environmental Policy Act, which is proceeding concurrently and is estimated to be completed with roughly two and a half years.

Decision documents and consultations that further explain the purpose and need for action, scope of the action, and/or otherwise document compliance with federal laws are posted in the Document link to the left. Additional documents will be added here as future analyses or consultations, as necessary, are finalized to enable work to continue.

- - -

Sequoia and Kings Canyon National Parks have a prescribed burning program that dates back more than 50 years. Most of this work has been focused on medium- to high-use areas, including 10 sequoia groves, to protect the spectacular natural ecosystems as well as human safety and infrastructure. These decades of work have proven to be effective in areas such as the Giant Forest in Sequoia National Park and Grant Grove in Kings Canyon National Park. This work will help protect many of the more remote giant sequoias by reducing the amount of hazardous fuel in thus-far untreated groves.



On Friday, October 14, 2022, Sequoia and Kings Canyon National Parks initiated emergency actions to protect giant sequoias from the threats posed by high-intensity wildfire. Park staff began removing and reducing dense vegetation and other potential fire fuel sources in and around 11 giant sequoia groves that are especially at risk. The work includes manual thinning by hand, and later burning piles of cut vegetation and dead wood, and later using prescribed fire in areas that were initially thinned by hand. Most of the 11 groves are in remote locations.