Project Links
A comment period for this project closes Dec 23, 2022:
Days, Hours, Min.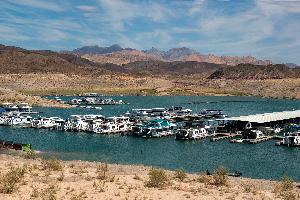 Sustainable Low Water Access Plan



The Sustainable Low Water Access Plan (SLWAP) is needed to:

· Fill an urgent and high priority need to help make critical decisions to inform the 2023 boating season and beyond

· Provide updated direction for natural and cultural resource programs

· Identify opportunities for non-motorized water-based access

· Evaluate potential site closures and consolidation of concessions operations



This planning effort builds upon past plans including, but not limited to, the General Management Plan. Lake Mead National Recreation Area has been operating under a Low Water Amendment to its General Management Plan since 2005. A second Low Water Plan amendment completed in 2019 included environmental assessment work in compliance with the National Environmental Policy Act. These GMP amendments guide lake access operations down to a lake elevation of 950 feet. The current projections indicate that the 950 feet elevation will be reached sooner than anticipated.   

Given rapidly declining lake levels and potential implications on infrastructure, operations, concessions, and visitor experiences at Lake Mead National Recreation Area, the National Park Service is engaged in a new planning process that will support decision making related to adapting affected operations beginning in Fiscal Year 2023. The new plan and anticipated compliance will prioritize facility investments across the five sites, Hemenway Harbor, Echo Bay, Callville Bay, South Cove, and Temple Bar, based on desired conditions and related advantages compared with estimated costs. The plan will provide recommendations that inform the full range of management concepts possible under a wide considerations of fiscal realities related to continued operation of marinas, boat launches, and other visitor facilities to complete relocation including the necessary utilities and infrastructure extensions.



The purpose of the plan is to engage with the public and consult with Tribal governments to develop strategic direction for the future of motorized boat launching and related commercial services at five key locations, along with facility and infrastructure needs and related implementation actions at these locations. The priority locations, previously identified in the 2021 Rapid Assessment and Response (RAR), are Hemenway Harbor, Echo Bay, Callville Bay, South Cove, and Temple Bar.