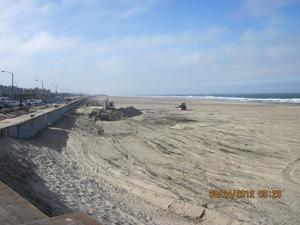 2014 Ocean Beach Sand Management Project


The National Park Service (NPS) in cooperation with the San Francisco Public Utilities Commission (SFPUC) will conduct sand management activities in early October. This activity will be a repeat of the successful sand management actions done in 2012 where excess sand in front of the O'Shaughnessy Seawall (north Ocean Beach) is transported to the erosion hotspot south of Sloat Boulevard (south Ocean Beach).

In 2012, approximately 73 thousand cubic yards of sand was relocated. This October's activity will transfer approximately 30 thousand cubic yards of sand.

The dramatic shoreline changes along Ocean Beach are a result of both natural and human-caused factors. In general, the beach at the northern end of Ocean Beach has been widening and accumulating sand while the beach south of Sloat Boulevard has experienced a loss of beach and is eroding. The erosion south of Sloat Boulevard is threatening the integrity of the Lake Merced Transport Tunnel, which runs along Ocean Beach and is critical wastewater infrastructure for the City. The use of sand has been an important action to protect the tunnel and avoid the placement of hard engineered structures such as rock revetments.

Accumulated sand at the north end of Ocean Beach results in sand covering the seawall's stairways and promenade, and being windblown in to the parking lot and the Great Highway. Removing this accumulation will improve visitor access to the beach.

The project involves excavating sand from in front of the O'Shaughnessy Seawall between Stairwells 1 and 28 and transporting it with dump trucks along the Great Highway to south of Sloat Boulevard where it will be deposited at two sites where sand was also deposited in 2012.

The project will also include wind-erosion control measures, bank swallow impact avoidance measures, and beach access improvements including defined beach access paths and signage.

The south bound lanes of the Great Highway will be closed during construction hours - Monday through Friday, 8:00 AM to 7:00 PM. No night or weekend work will occur. Project staging will also require short-term closures of some parking areas including the parking area at Stairwell 28 and the parking lot located at Sloat Boulevard.

The project is estimated to be completed within five weeks.

A more detailed project description and construction drawings are available for review. The National Park Service is interested in any issues or concerns the public may have regarding the proposed project. Comments are requested by September 27, 2014 in order to be considered before the work begins.

To review project details and submit comments, follow the "Open for Comment" link on the left.


Contact Information
Steve Ortega, NPS Project Manager
goga_planning@nps.gov



2014 Ocean Beach Sand Management Project