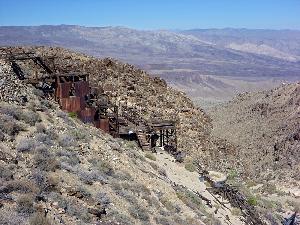 Skidoo Mill - Contaminated Site Mitigation


The Skidoo Mill Site is a historic mining district in Death Valley National Park that the National Park Service is investigating for potential cleanup of hazardous chemicals.

In the early 1900s, Skidoo was a gold mining district that was home to 700 people. Today it is a ghost town, with the closest residents living 26 miles away in Stovepipe Wells.

Skidoo Historic District is listed on the National Register of Historic Places and is a popular visitor destination. The tanks, mercury tables, and a large portion of the mill operations are well preserved and visible.


History

Two prospectors found gold at Skidoo in 1906. The mill opened in 1907 to extract gold from ore rock. A 23-mile metal pipeline was built to convey water to the mill and town. The town reached a population of 700. Skidoo was the Death Valley region's largest mining operation from 1907-1917, and produced about $1.5 million of revenue. After 1917, most people moved away. Sporadic milling continued until 1942, then Skidoo was completely abandoned.

The area is now designated as Skidoo Historic District. Little remains of the former townsite, and the wooden mill structure is the most impressive tangible connection to the area's mining history. Skidoo Mill Site includes a large wooden structure, four mercury amalgamation tables, and at least nine large cyanide-leaching tanks.


Environmental Investigations

The milling operations left behind hazardous materials at Skidoo, such as mill tailings. The National Park Service (NPS) is investigating Skidoo to evaluate cleanup options, pursuant to Comprehensive Environmental Response, Compensation, and Liability Act (CERCLA). Congress enacted CERCLA, also known as Superfund, in 1980 to address releases and threatened releases of hazardous substances into the environment.

A preliminary assessment of the Skidoo Mill Site was conducted in 2014. Based on operational history and information gathered during the preliminary assessment, the chemicals of concerns were cyanide and metals. During a site inspection in 2016, soil and surface water samples were collected and analyzed for metals, cyanide, and pH. Soil samples were analyzed for acid-base accounting, a measure of the potential for acid mine drainage from the Site.

Concentrations of several metals- -including antimony, arsenic, lead, mercury, molybdenum, silver, and zinc—were found at levels elevated above natural background conditions. Several metals exceeded the regional screening levels (RSLs) for residential soil and NPS ecological screening values (ESVs). In addition, several metals in water samples exceeded the ESVs. Cyanide was also detected in soil at concentrations above the RSL and ESV. However, acid mine drainage is not considered a concern at Skidoo.


Upcoming Investigations and Cleanup

The National Park Service has determined that preparation of an engineering evaluation/cost analysis (EE/CA) is appropriate for Skidoo, based on the chemicals of concern found there. The EE/CA is being prepared to determine the nature and extent of Site contamination; evaluate associated potential risks to human health, safety, and the environment; identify relevant cleanup requirements; and develop a range of cleanup alternatives for Skidoo Mill Site. NPS will continue collection of soil samples in the fall of 2019.

Once the range of cleanup alternatives are identified, NPS will request public feedback during a public comment period.

Full documents and references for this project will be available at Furnace Creek Visitor Center and Stovepipe Wells Ranger Station, however as of 9/27/2019 they are not there yet.


Contact Information
Abby Wines
Public Information Officer
PO Box 579, Death Valley, CA 92328
760-786-3221
abby_wines@nps.gov



Overview