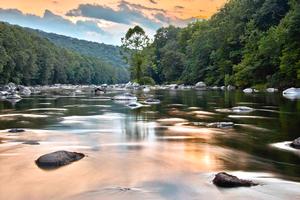 Lower Farmington River and Salmon Brook Wild & Scenic Study and EA


The accompanying Lower Farmington River and Salmon Brook Wild and Scenic Management Plan (June 2011) was prepared by the locally-based Wild and Scenic Study Committee with assistance from the National Park Service as a part of the Study process. It would serve as the comprehensive plan required of all Wild and Scenic Rivers, and functions as a blueprint for conservation actions and management practices whether the rivers are designated as Wild and Scenic or not.

The upper 14-miles of the Farmington River were designated in 1994, and due to its success in facilitating river protection through a partnership between residents and the state, local, and federal governments, interest arose in completing the Wild and Scenic designation for the downstream segment of the river. The lower Farmington River and its important tributary, the Salmon Brook are rich in recreational, historical, and biological values.

A Partnership Wild and Scenic Rivers designation would permanently protect the river from federally licensed or assisted projects that would have a direct and adverse effect on its free-flowing condition, water quality, and resources. A designation can also result in local benefits such as federal assistance for implementation of the Lower Farmington River and Salmon Brook Management Plan, research studies, and enhanced cooperation among numerous river stakeholders. River designation may bring prestige and recognition to a region, and can boost the local economy through tourism and possible funding through the National Park Service, matching grants, in-kind support, and volunteer assistance.



Contact Information
Joyce Kennedy Raymes
Project Manager
749 Hopmeadow Street
Simsbury, CT 06026
860 658 4442 x.203
Joyce_kennedy@nps.gov

Jamie Fosburgh
New England Team Leader
15 State Street
Boston, MA 02109
617 223 5191
Jamie_fosburgh@nps.gov




The National Park Service has completed the Lower Farmington River and Salmon Brook Study Report and Environmental Assessment (EA). The document details the Wild and Scenic Study process and its findings of eligibility and suitability for a Wild and Scenic River designation. The EA specifies the purpose for the designation and need for action as well as alternatives for action. In addition, the report documents the five-year scientifically-based Wild and Scenic Study research and the extensive public input and involvement that resulted in widespread public support.