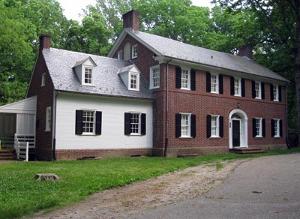 Replace Plumbing Components to the Shower in the Master Bedroom of the Superintendent's House (Quarters #2)


The Superintendent's House was built 1938-1939 by the Civilian Conservation Corps. For forty years the building served as a residence for the park's superintendents and their families. For the past thirty years, it has been used as "dormitory" housing for the park's temporary and seasonal staff. Occasionally, is has also housed park offices. The building currently has six bedrooms on two levels.

The shower in the Master Bedroom on the second floor of the building has begun to leak. The issue has been diagnosed as deteriorated plumbing within the wall and behind the shower fixtures. Water has been turned off the shower, but the park staff desires replacing the leaking pipes and failing fixtures.

There is no access panel for the plumbing. the shower shares a wall with the Master Bedroom's closet. An examination of the shared wall fails to reveal any previous intrusion. The wall is gypsum board with a paint coat. The park is proposing to cut an access hole into the gypsum wall in the closet. This will provide the needed access to the pipes. The necessary repairs and replacement of the plumbing will occur. A simple access panel will be framed out and left in the closet wall for future plumbing access needs.

Additionally, the fixtures are stripped, leaking and failing to operate correctly. This project will require the removal of some tile around the fixtures in order to access the valve(s) for the dual handle shower fixtures. Repair/replacement will occur. The park work to retain the handles. Replacement of the tiles will occur once the repair/replacement of the valve(s) has occurred.

The park does believe that the project will have "no adverse effect" on the defining characteristics, qualities or features of the Superintendent's House.


Contact Information
Eric J. Mink
540-760-7939



Fredericksburg and Spotsylvania NMP is proposing to replace components to the plumbing that serves the shower in the Master Bedroom of the Superintendent's House (Quarters #2).