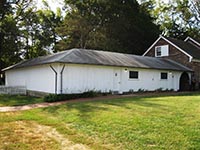 Replace Doors and Install Air Conditioning to the Chatham Public Restrooms


In the intervening years, time and weather conditions have deteriorated the two wood doors, which provide access to the restrooms. The park proposes to remove the two simple wood doors and replace them with simple metal doors. This will also include the replacement of the wood doors frames with metal frames.

The restrooms have always had electric heat, but have lacked air conditioning. The park now proposes to provide air conditioning for the public's comfort during the warmer months. The proposal is to install a mini-split ductless HVAC system, one in each of the two restrooms.

See attached 106 effect report for details.


Contact Information
Eric J. Mink
540-693-3200 x6020



In 1981, the National Park Service rehabilitated a portion of the Chatham Carriage House for use as public restrooms. The Carriage House was built ca.1927 and consists of a brick stable and an "L" shaped wood carriage house. The men's and women's restrooms were installed in the larger portion of the structure, while the shorter section of the structure, often referred to as the "Boathouse," continues to be used for storage. In the most recent update to the National Register (NR) documentation for Fredericksburg and Spotsylvania NMP (FRSP), the Chatham Carriage House, Stable, and Boathouse is listed as contributing resources to the park's eligibility.