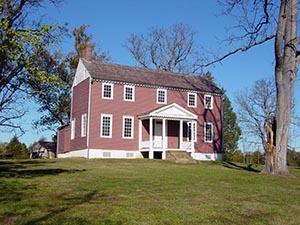 Installation of a Well, Chlorination and Septic System, and Restrooms at Ellwood


Beginning in 1998, Ellwood Manor was opened to the public seasonally. The site is staffed by the Friends of the Wilderness Battlefield (FoWB) annually between Memorial Day and Labor Day. Beginning in 2007, the interior of the building underwent extensive rehabilitation and both museum and interpretive exhibits were installed. In 2017, the public visitation to Ellwood was 6,530.

Since the late 1990s, Ellwood has not had potable water. The existing well supplies water for maintenance activities and the house's fire suppression system only. Until 2015, restrooms consisted of a single portable facility on the Ellwood grounds. The park and FoWB recognized the need for more adequate facilities and in 2015 a restroom was framed out inside the Brooder Barn. The restroom operated off a small composting system, since the site did not have an adequate well or functioning drain field and septic system. After two years, that system has also proved inadequate.

The park now proposes to install a new well, chlorination and septic system, and a drain field. This will allow for potable water and the installation of appropriate and suitable restroom facilities.

See attached Section 106 Effect Report and associated documents for details.


Contact Information
Eric Mink
540-693-3200 x6020



Fredericksburg and Spotsylvania NMP proposes to install a well, septic field, and convert an existing restroom with a composting toilet into two separate bathrooms with flush toilets and sinks at the Ellwood Brooder Barn.