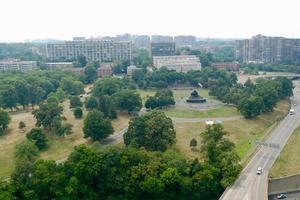 Construct New Comfort Station at U. S. Marine Corps War Memorial


The proposed project would construct a 1,200 square-foot comfort station near the Memorial to replace several portable toilets currently used on site. The comfort station would include two accessible restrooms (men's and women's) as well as a visitor contact station, a water bottle filling station, janitor closet, and sewer lift station. The site will be totally accessible meeting applicable Architectural Barriers Act Accessibility Standards (ABAAS). Improvements to outdoor lighting for wayfinding and security of the facility are also included. Efforts have been made to ensure the facility is easily visible to the public, while still being removed from the Memorial itself. Conceptual designs with the smallest possible imprint are presented below.


Contact Information
Simone Monteleone, 703-289-2512



The National Park Service (NPS) is planning to build a comfort station (restroom facility) near the U.S. Marine Corps War Memorial (Memorial), at Arlington Ridge Park in Arlington County, Virginia. The purpose of the project is to help ensure the health and safety of the public and improve the visitor experience while preserving the setting of the park and its memorials. As part of this effort, the NPS will be determining the appropriate level of study required for this project to be in compliance with federal law, and encourages public participation throughout this planning process.