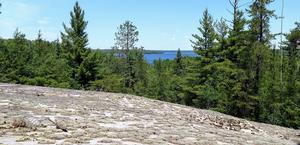 Develop Recreational Facilities at Mukooda Lake


The Mukooda Lake campground pre-dates the establishment of the park and has never been rehabilitated and brought up to current Voyageurs campsite construction standards, including providing tent pads, as defined in the Lakecountry and Backcountry Site Management Plan. The individual sites in the campground are poorly defined, resulting in inefficient use of the facilities and loss of vegetation.

In addition to updating the campground, the National Park Service seeks to add more recreational opportunities in the Sand Point Lake area of the park. Currently there are no hiking trails in the eastern half of Voyageurs. A hiking trail in the Mukooda area was identified in the 2001 Voyageurs National Park General Management Plan but never implemented.





Contact Information
John Snyder, Biologist
218-283-6690



Voyageurs National Park is preparing an Environmental Assessment to upgrade and redesign the Mukooda Lake Small Campground and construct a new hiking trail in the vicinity of the campground.