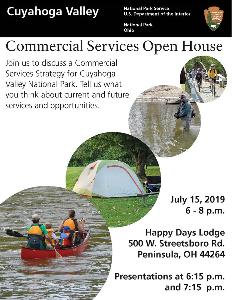 Commercial Services Strategy


NPS defines commercial services as any product, activity or service offered to park visitors that uses park resources, and for which compensation is made to a third party. Commercial services play a vital role by offering park visitors services and activities that the government does not provide directly to the public. Commercial services can help increase usage, enjoyment, and visibility of the park to the community. This strategy would identify high-potential new services given trends in recreation in the park. It first outlines growth trends, potential drivers, and existing constraints on visitation. Then, it provides possible new commercial services to consider given recreational trends.


Contact Information
Mary Pat Doorley (440) 440-546-5910
Christopher Wang (440) 546-5950
MollyTyeryar (440) 546-5947



The National Park Service (NPS) Cuyahoga Valley National Park (CVNP, the Park) propose to develop a new Commercial Services Strategy to serve visitors to Park better, particularly with regard to new and evolving recreational amenities such as new Central Visitor Center, the East Rim Mountain Bike Trail system and the Cuyahoga River Water Trail. The NPS is developing this strategy to identify opportunities to enhance the park's mission and the visitor experience through the introduction of commercial services.