Project Links
Share this on:
(non-NPS links)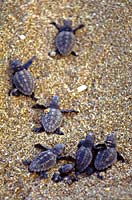 2006 03Mar 02 - Management, Monitoring, and Protection Protocols for Threatened and Endangered Species and Species of Special Concern at Cape Hatteras National Seashore, North Carolina
The Management, Monitoring, and Protection Protocols for Threatened and Endangered Species and Species of Special Concern at Cape Hatteras National Seashore offer a scientific view of options in managing protected species at the Seashore.
The information provided in the Protocols can be used by park managers and the public alike, as a tool to assist in the development of park planning documents and management strategies for species protection and public use. In addition to science, many other factors such as federal laws and mandates, NPS policies, public input, practical field experience, and other science are considered in the development of plans and strategies implemented at the Seashore.
The information in this document will most immediately be useful to the public as they consider their comments during public comment periods for the Interim Protected Species Management Strategy.
There are six separate document sections; an introductory Synthesis, followed by Protocols for the piping plover, sea turtles, seabeach amaranth, colonial waterbirds, and the American oystercatcher.
The Protocols were produced by the United States Geological Survey (USGS) at the request of the Seashore. The USGS is the sole science agency for the Department of the Interior. The information and recommendations presented in the Protocols represent the professional opinions of scientists that analyzed and interpreted the scientific data associated with protected species found at the Seashore.
About the USGS:
The USGS serves the Nation as an independent fact-finding agency that collects, monitors, analyzes, and provides scientific understanding about natural resource conditions, issues, and problems. The scientific nature of the USGS, its national perspective, and its non-regulatory role enable the USGS to provide information and understanding that are policy relevant and policy neutral.

Document Content: