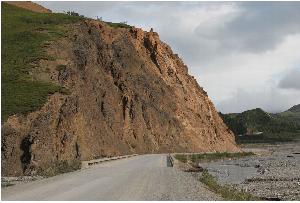 1996 Entrance Area DCP/DEIS Appendix C
Appendix C: Road Management
See page 270 Priority 1: Correct Safety Concerns
The CE updates and amends the list of concerns to include Toklat Bluffs.
See page 272 Annual Review and Subsequent Environmental Compliance
#2 Talks about projects not listed but equally a priority needing internal review and cultural resource compliance.
Review was completed through USMP process, design discussions with Federal Highways and compliance discussions. SHPO was consulted and concurred with project.

Document Content:

Appendix C Road Management.pdf
(659.5 KB, PDF file)
Disclaimer:
Links within the above document(s) were valid as of the date published.
Note:
Some of the files may be in PDF format and can be viewed using the Adobe Acrobat Reader software. You may download a free copy of
Acrobat Reader
from Adobe Systems.